Weekly English Mass in Amsterdam
Honoring our Catholic tradition, Our Lady of the most Holy Rosary parish is a Catholic Community building the reign of God in the "Oud-Zuid" quarter of the city of Amsterdam.

We value vibrant liturgy and personal prayer, as a way to worship God and celebrate life.
We are an inclusive community respecting the dignity of all persons and supporting the journey of each person.
We respond to the command of Jesus to love by welcoming all, evangelizing, supporting spiritual growth, and being Eucharist to each other. Challenged by the Holy Spirit.

For the regular weekly masses, please see the Agenda.

Feel welcome and enjoy your stay.
Pastoor J.J. Quadvlieg
Survey
Paid parking in the Museumkwartier on Sundays from noon onwards.
The municipality has decided that as from Sunday October 3, 2021, paid parking will be introduced on Sundays in the Museumkwartier. Paid parking will be from noon until midnight.
Because Sunday High Mass starts at 11 am and frequently lasts for more than an hour, this will have consequences for our parishioners and regular visitors who come to church by car.
The parish board wishes to investigate whether the parishioners and regular visitors are willing to allow that High Mass will start half an hour earlier at 10.30 am and the family mass at 9 am.
By means of this survey the board wishes to know your preference.
You can indicate your preference by using the downloaded form, or by emailing your preference directly to secretariaat@obrechtkerk.nl
Thank you for your cooperation.
The parish board
Preparation for the 1st Holy Communion 2021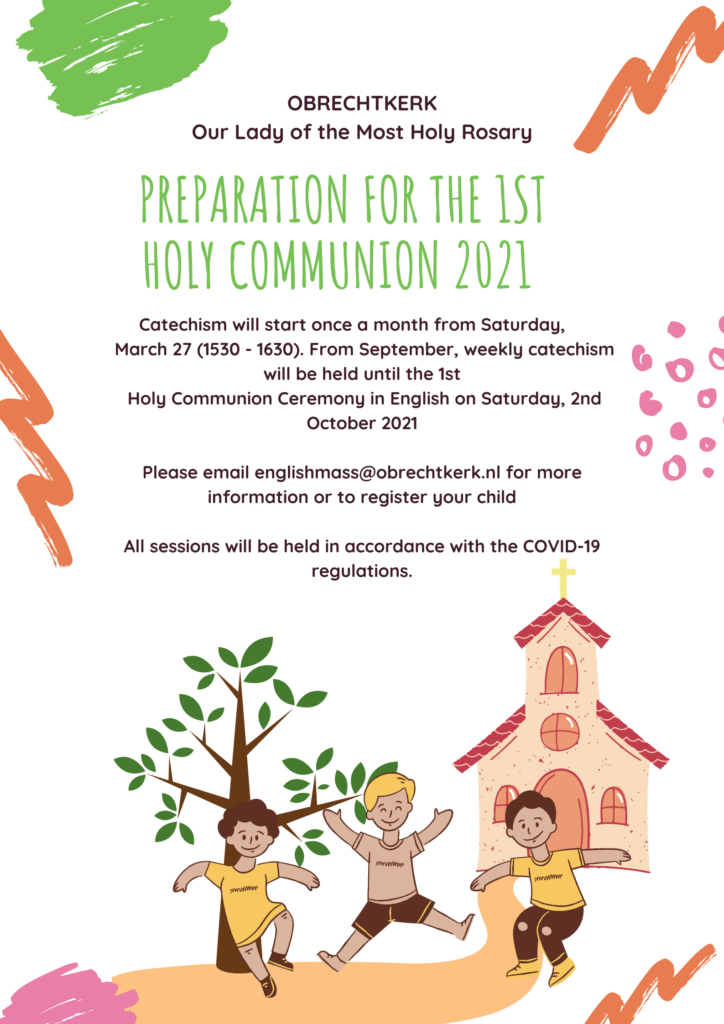 International Community
Our international mass commenced in September 2018 as a once a month community mass. Responding to the interest and needs of the community, the Saturday weekly mass was initiated from October 2019.
Leader: Pastoor J.J. Quadvlieg
International Community Coordinators: Loraine Branch and Maria Pathrose
Our international team are volunteers who have been living in Amsterdam from 14 months to 15+ years. They are multi-national, multi-cultural, multi-lingual and are keen to bridge the experience of faith and community for expatriates and visitors in Amsterdam.
We are a family friendly community and welcome new parishioners to our growing active, vibrant and diverse community. We especially welcome children to our Saturday family mass and will include children actively during our service ensuring a good experience for the family.
Become a Parishioner
If you would like to join our parish, please send us an email to the email address shown in 'Contact Us'. We will facilitate your registration at Obrechtkerk.
Contact for International Community
All enquiries for the international community and mass may be sent to the following email box: englishmass@obrechtkerk.nl.
The email box is monitored regularly and you will receive a response from one of our coordinators.